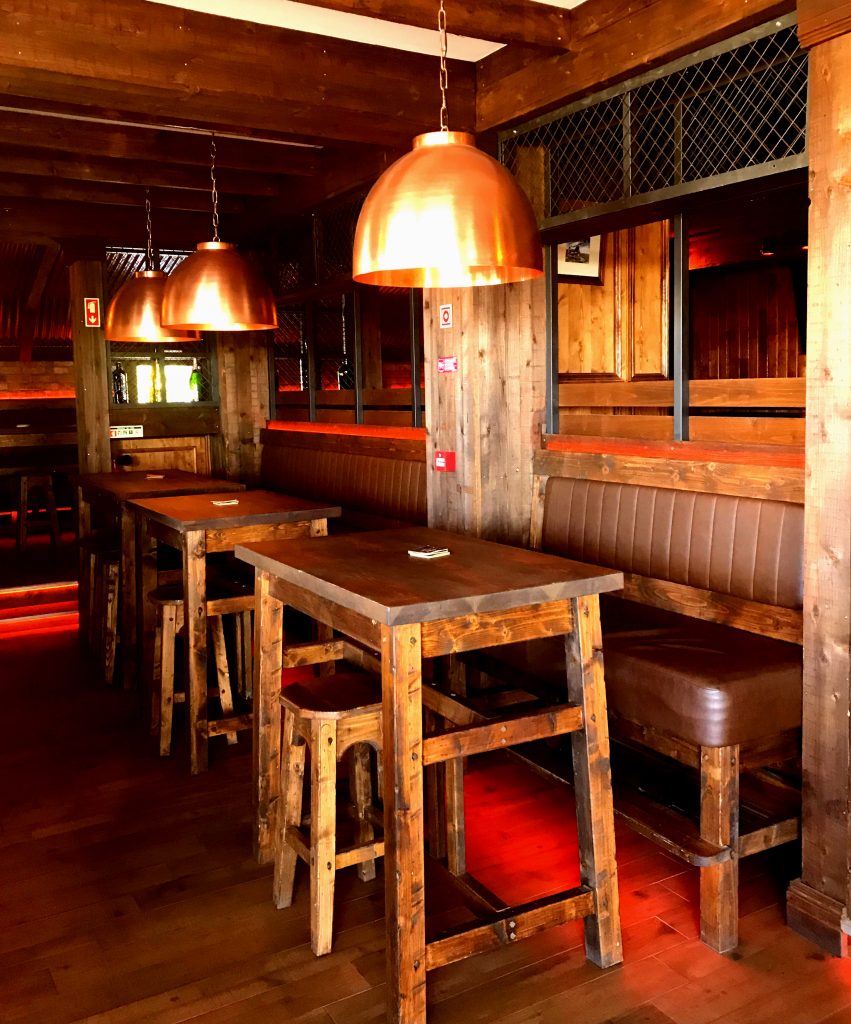 "I recently took over an empty premises on the Albufeira strip. I was recommended to use Intec Design and after contacting the team Ciaran and Shaun quickly met with me to discuss my options. The team were a great help from start to finish and transformed the space into a successful Irish Bar."
Michael McDonald, McDonnell's Irish Bar Albufeira
Albufeira, Portugal
"I would like to thank the team at Intec Design for all their hard work and professionalism throughout the project. We couldn't have asked for more, our bar looks fabulous and Irish!! Hard work pays off, well done guys. We have comments daily about how amazing the place looks. I would recommend your services to everyone and we hope to work together in the future."
Paddy O'Kellys, Tenerife
Tenerife
"We needed to refurbish our Lounge bar so we contacted Intec Design. Ciaran and the team were very efficient and have a lot of experience. The lounge has really taken off so we have appointed Ciaran and the team to redesign our public bar now too."
Paddy Dorrian, Glencar Inn Letterkenny
Glencar Co. Donegal
"We had an outbuilding that was not being used and had an idea to turn it into a restaurant. We contacted Intec Design who quickly met with us to discuss our options. We went ahead with a full refurbishment and are very glad that we did. The restaurant is now doing very well for us and the team were a great help throughout."
Redcastle Co.Donegal
"We have a number of bars throughout Ireland and have used Intec Design on a number of occasions. Ciaran has many years' experience and has helped us achieve a lot of success with our projects. We would recommend Intec Design for all types of design work"
Davy Macs Waterford
Drogheda's coolest music venue, Odd Mollies, gets off to a great start
Odd Mollies. If you think the name is quirky wait till you get inside and see the décor. It's about as far as you can get from the traditional style of pubs that publican Brian Browning has been running up to now.
But the very fact that Brian is now opening his fourth pub when many others are closing their doors is testament to a man that is not afraid to buck a trend.
Odd Mollies is at the top of Peter Street right beside Drogheda's most famous traditional style pub, Clarkes, which is also run by Browning.
Although the two are linked and they share a beer cellar (which means the pint is great), they couldn't be more different when it comes to style.
While Clarkes has old wooden snugs and mirrors that have the patina of age to them, Odd Mollies has stone walls, exciting, 21st century lighting and some quirky touches such as the corrugated iron cladding on one of the bars. It sounds odd but it really works a treat.
Another important common denominator to the two pubs is that it shares the core staff of Ciaran Grennan, Alan Cooney and Seanie Maguire who are all well aware that the most important requisite of the bar trade is a welcoming smile and a friendly demeanour. This is the hospitality trade after all.
There are of course new staff coming on board and one young barman by the name of Adam came in for some very complimentary remarks from certain female clients last night. They shall remain nameless but shame on you ladies, you're all old enough to be the lad's mother.
Odd Mollies has its sights set on becoming Drogheda's coolest music bar and it certainly has everything that a venue needs. Drogheda's very own Sca Band, Trenchtown, got things off to a great start last night with some fantastic sounds. The music continues tonight (Saturday 12th December) with the excellent Stonecold Hobos. Doors open at 5 and the Hobos kick off at 10.
Apparently the odd name comes from a shop in Stockholm which Brian always liked and then he remembered his Grandmother's name was Molly and also Drogheda artist Nano Reid who used to live above Clarkes had a sister called Molly who, Brian says, was very odd.
Old Mollys - Article by Droghedalife.com
Drogheda
"For whatever reason(s) the bar had experienced a significant downturn in fortunes. We decided to bring the Intec team on board. Ciaran very quickly got a feel for where the problems lay, and pulled a plan together not too long thereafter. The designer's eye was obviously critical to the plan, but what was equally impressive was Ciaran's understanding of the market and what punters expected of a modern bar. another impressive skill was their ability to tailor the design to our specified budget. The bar has been transformed and has seen a significant upturn in fortunes as a result."
Owner of Christy's Bar, Strabane.
"I was just about to send you guys a note. We opened at 5.00 on Friday. We actually had people queuing to get in.
The response so far has been brilliant. Everybody when they walk in are really shocked….. in a positive way. People love the décor and the atmosphere it creates, all the different textures works really well.
The bar really works in the middle of the room and everybody keeps saying that they can't believe it's Mc Kenna's.
The granite stone wall behind the counter looks really cool with the lights shining up and as you mentioned the shadows it creates. When people walk in it hits them straight away. I love watching the expressions on people's faces, it's so funny.
The lounge also really works well the way you divided it up. Three different areas which suits different people yet all near the bar.
Thank you so much for everything, you guys have been brilliant."
McKenna's Bar Dun Laoghaire